The controversial LIV Golf Invitational Series is set to offer a total $225M of prize money, with each regular event carrying a purse of $25M. Their first event in London dwarfed not only the week's competing events, but all PGA Tour events this year so far.
It was clear that PGA Tour was trying to defuse the LIV Golf challenge when they raised the purses last year. Carrying the same momentum, on 22 June 2022, they announced raising purse size at eight events for 2022-23 season with an average purse at $20M, while The Players Championship will carry a total purse of $25M. (The magic number?)
We wanted to know just how much more money is being poured in this race and how it compares to the last decade.
We learned a lot about PGA Tour purses. And I'm sure you will too.
Here is a quick summary of our findings:
Marquee PGA Tour events whose 2023 purses are confirmed have seen a yearly 44% average increase in purse sizes since 2021 editions, 11x more, compared with the average growth of 4% between 2011-2021! (i.e. In the world without the LIV Golf)
Till 2021, no tournament could even add $5M on top of their purse in 2011, except for the Players Championship. However, the current scenario has pushed seven events to have a boost of nearly $10M and one above $8M from their 2021 editions.
Sentry Tournament of Champions received the highest ever single-year boost of 83% for any PGA Tour event, making its average yearly growth 52.7% since its pre-LIV edition of 2021. While the Players Championship, which boats the largest purse of $25M, was the least gaining event at 29% increment.
From the majors, U.S Open has seen the highest rise in purse at 40% from its 2021 value, while the iconic Open Championship had the lowest 21.7% increment. The average increase in purses for all four majors was 29.3% since 2021.
In the last decade, it's only 3 other times when we saw the raises north of 30% for any prominent PGA Tour event. While there have been 13 such instances in 2022 and 23 purses so far.

The extravagant purse increments for the current season have propelled the average purse per event from $7.93M to $9.17M, nearly a 15.64% jump, while for the previous ten years, it only grew at an average of 2.6%. Meaning it was pretty much steady until the LIV Golf stimulus.
For those who love tables, here is a TL;DR snapshot of some of the data we extracted. You can continue reading to explore more.
Top PGA Tour events whose 2023 purses are confirmed have seen a yearly 44% average increase in purse sizes since 2021 editions, 11x more, compared with the average growth of 4% between 2011-2021 without the stimulus of LIV Golf.
This boost comprises a 32% average increase in 2022 and a whopping 55% average increase basis the announcements for 2023.
Now let's analyze each of these tournaments and the historical growth pattern in their purses.
#1 The Players Championship
As per the study, the largest purse belonged to The Players Championship, even bigger than any of the four men's majors.
It has jumped from $15M in 2021 to $20M in 2022 (33%) and $25M for 2023 (25%), a $10M jump in just two years. On the other hand, it took them a decade to reach $15M from $9.5M in 2011.

The graph below shows yearly rate of increase in purse size.
#2 FedEx St. Jude Championship
This event has undergone a couple of major reforms resulting in name and location changes. It saw a 55% purse boost in 2019, when FedEx took over sponsorship of the WGC Invitational and relocated this tournament to Memphis. It was one of the few prominent jumps in purse for any event, comparable to the ones we saw for 2022 and 23.
This second last tournament in the FedEx Cup playoff event, was the slowest growing tournament with just 1.7% year-on-year growth in purse value over 10 years, until 2022 when it saw extraordinary 58% growth compared to the year before. It was also announced to have a $20M purse in 2023.
Just like the FedEx St. Jude Championship, Genesis Invitational also had other names in the last decade, including Northern Trust Open and Genesis Open. It saw a 26% raise in purse after gaining invitational status in 2020 with Tiger Woods as the host. In 2023, it is set to have a purse of $20M.
#5 Arnold Palmer Invitational
Given Arnold Palmer's contribution to the game, PGA Tour in an effort to further advance his stature, elevated the Arnold Palmer Invitational's purse to $8.7M starting in 2017, a 38% year-on-year boost. This tournament is also one of the 7 events having a $20M purse in 2023.
Just like Arnold Palmer Invitational, Memorial Tournament grants the winner a three-year exemption. In 2016, PGA Tour in honor of Jack Nicklaus, bumped up its purse by 37% from previous year, to $8.5M. With $20M in 2023, it is going to be one of the four tournaments with a jump of nearly 67%.
Currently going by the name WGC-Dell Technologies Match Play, this tournament has never seen a notable boost in the last decade, until 2022 when it broke through the stagnancy by 14% boost. It is now set to get a $20M purse like the others mentioned above.
#8 Sentry Tournament of Champions
Tournament of Champions, reinstated as a season opener for 2024, had names including the SBS Tournament of Champions and Hyundai Tournament of Champions in the past decade. By purse size, it was never in the top listers and showed just a 1.8% yearly growth until the recent announcement that beefed up their purse to a staggering $15M for 2023. This increment has made Sentry the highest gainer of post-LIV time so far, at average 52.7% growth from 2021.
The four majors in 2022 have collectively seen an average increase of 29.3% from 2021, with the U.S Open getting the highest rise in purse at 40%, and the iconic Open Championship getting the lowest 21.7% increment.
The PGA Tour does not directly run any of the majors. Hence, they were not part of the PGA Tour's announcement of 2023 purses.
However, with a 55% boost in purses of 8 marquee events for 2023, there is a possibility of a similar surge in 2023 for the majors as well.
With the latest announcement by USGA to set the U.S. Open purse at $17.5 Million, it became the highest paying out of the 4 major tournaments. Though we do not know their plans for 2023, 2022 increment alone amounts to 40% year-on-year growth in purse value which is 8 times more than traditional growth they had seen.
This highly regarded and steadily growing major championship increased its purse by 30.4% in 2022. This tournament was special since Tiger Woods was going to make his first competitive shot since the 2020 Masters.
This major championship did not see much increment in the last decade, except for the year 2014, when its purse increased from $8M to $10M. The next significant boost of 25% was only seen in 2022.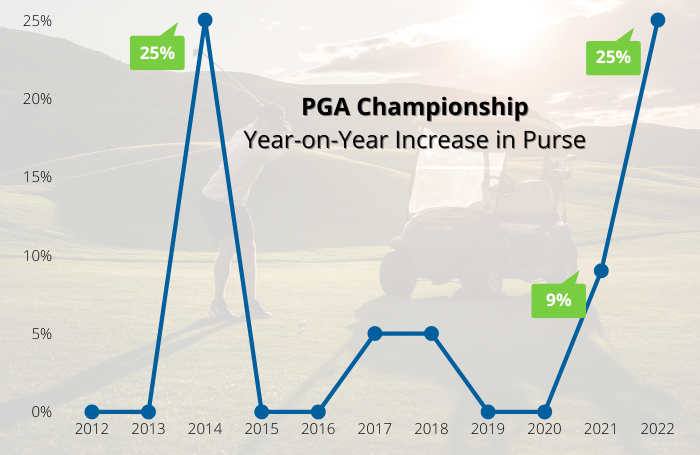 Open Championship has not restricted players from playing in the iconic 150th Open, even if they have participated in LIV Golf event. R&A took this decision suiting their slogan Golf is open to all.
Data shows that the Open has seen an average yearly boost of 4.8% in the past 10 years. In 2022 though, their purse has seen a 22% jump announced by R&A.
The Average Purse Per Event - By Season
Finally, we also analyzed the average purse per event, comprising all the official money events on the PGA Tour calendar from 2011 to 2022.
It revealed that the unprecedented purse increments in the current season have propelled the average purse per event to $9.17M, nearly a 15.64% jump from previous year, while it only grew at an average of 2.6% during previous ten years.
The below graph indicates it was steady between $7-8M for past few years until the advent of LIV Golf!
Putting it all together...
Here is an infographic summarizing our significant findings. Feel free to share it on your site or social media.
Our Methodology:
We extracted the details of tournament purse sizes, between 2011 and 2022 from the official PGA Tour website. This data was further appended with the 2023 prize money announcements by PGA Tour for select events.
Next we calculated the year-on-year increase in purse size for all top events from 2011 till 2023. It provided a clear picture of historical trends in purse growth for all the preeminent events.
Finally, we compared the average Y-o-Y growth after the advent of the LIV golf scenario, with the average Y-o-Y growth in the decade before. (i.e. 2021-23 vs 2011-21)
For the major championships, the comparison is between 2021-22 vs 2011-21, since their 2023 purses are not announced.
We have used publically available data for this study and ensured to produce accurate stats. Feel free to contact us if you spot anything that needs to be corrected.
It was thrilling to do this analysis against the backdrop of a groundbreaking situation in our beloved sport.
On average, the top event purses have gone up by 43.7%, while a yearly growth for the last decade (2011-21) was merely 4%.
Also, the average purse per event has a 15,64% year-on-year jump, a first in many years.
PGA Tour is in the arms race with the Saudi-backed LIV Golf, banning players who took part in their events and trying to make the tournaments more lucrative for players to stay committed.
It goes about showing how someone's loss is someone else's gain.